Microsoft StaffHub is deprecated. You can use SIGNL4's built-in scheduling for your shifts and on-call planning. Or, you can also use the REST API (e.g. with Microsoft Power Automate) for integrating with your own scheduling tools.
We live in a somewhat paradoxical world. Our cars, or those that will soon be automatically brought to us via an Alexa voice command, drive us e. g. independently to the doctor or in front of a furniture store. Once there, however, it is just not possible to read in the chip card for registration or the cash register system has failed again and the payment process is delayed. In the last two months, I myself had two such experiences in which technology didn't work smoothly, and as a customer, I had unpleasant disadvantages such as time lost due to waiting times. A hotel couldn't issue my invoice at checkout because the computer didn't work and a furniture store couldn't account for my purchase, because there was a problem with the voucher settlement system. As unpleasant as these cases may be, they become no less than normal due to increasing technicization. Systems are failing and it will always take skilled people to solve the problems quickly. However, it is important that they are alerted quickly and efficiently about these incidents.
Digital planning of shifts and on-call duty
Regardless of whether it is the heating maintenance service in your town, the service desk for a cash register system, a service for supporting medical devices or the IT department of a large corporation. All of those teams plan their availability by scheduling different employees for different shifts or on-call duties. While this used to be done in the past by means of calendar books or Excel spreadsheets, in the age of digitization this happens online on the web or via app, e. g. with solution such as Microsoft StaffHub or Shyftplan. Products like SIGNL4 which focus on critical alerting, do have this capability already built-in: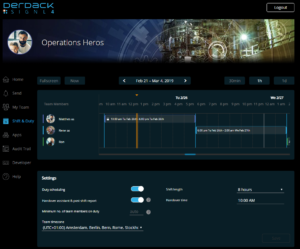 A dedicated product just for scheduling is StaffHub, part of Office 365. You need have an Office365 account. Afterwards, you can log in here and immediately schedule your employees to work in different shifts. More information can be found here.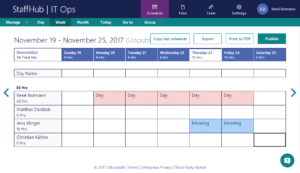 The big advantage of duty and scheduling here is the incredibly fast and convenient adaptability of the shift staffing. Our world is ticking faster and faster, at the expense of planning. We often plan only to make exceptions in the event of illness or other incidents. With the aforementioned tools, this can be done very quickly and transparently, especially via app on the phone.
Shift planning is good, standby alerting is better
Efficiency in on-call planning is a prerequisite for quickly resolving problems and failures. However, without a fast and automated alerting of the respective shift staff, the best planning is of no use in order to keep downtimes as low as possible. The crucial question is, therefore, how the alarm can be sent quickly from the Helpdesk to the appropriate person on duty, e. g. from the employee behind a customer counter. SIGNL4 was developed specifically for this purpose. The SIGNL4 alerting app can be used to alert the emergency personnel quickly and reliably. Employees can then acknowledge incidents, for example, and each shift employee can see which colleague is currently working on which problem or customer. The alarm itself can be triggered easily by sending an email to SIGNL4 (your own email address per team) or by calling up a webhook. You can see how this works in detail here.
SIGNL4 allows for going and off on-call duty and shifts shifts with a simple push of a button for starting and ending shifts. It couldn't be faster and more flexible. 😉 On, top it provides built-in scheduling capabilities.
Linking of StaffHub and SIGNL4 via Microsoft Flow
SIGNL4 can however, also be linked with an external scheduling tool like StaffHub (and many others). Based on the schedules in StaffHib, colleagues are automatically added to on-call duty, or  released into the off-duty period according to the shifts stored in StaffHub. To use SIGNL4, all you need to do is download the SIGNL4 app to your phone and log in with your Office365 account. Invite the same colleagues to join your team, which you can also schedule in StaffHub. Here you can see how this is very easy.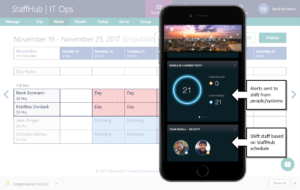 In order to link the SIGNL4 standby staffing to your StaffHub shift calendar, a third online service, Microsoft Flow, is needed. Flow is a service for the automation of various processes. In this service, you'll have a flow that regularly queries your StaffHub calendar in background, and then sends the people whose shift has ended to leisure time and adds employees on standby at the beginning of a their new shift. SIGNL4's ability to enter the on-call mode or leave temporarily in personal emergencies at the push of a button remains completely intact. The process is already prepared in Microsoft Flow as a template for the SIGNL4 connector and does not need to be re-created. Perform the following steps to activate it in your flow environment:
Log in to MS Flow with your Office365 account (https://emea.flow.microsoft.com)
Click on Templates on top of the page, and enter "SIGNL4" in the search field
Click on the template named "On-call duty handover with StaffHub and SIGNL4"
Now connect to your StaffHub and SIGNL4 team on the bottom of the page. Both can be accessed via a simple login with the Office365 account and the subsequent permission for Microsoft Flow to be able to access these services automatically on your behalf (Consent Grant)
Now click on "Create Flow" below
Make sure to update the calendar name /team name in the StaffHub activity to the one you use for planning in StaffHub
Done!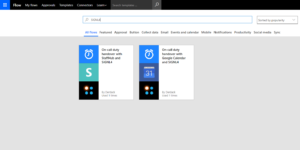 Summary
Nowadays, it doesn't take much anymore in order to run an effective service desk, emergency and standby service. Shift planning can be done in no time at all in online tools such as StaffHub or Shyftplan. SIGNL4 then takes over the alerting of the shift workers and triggers the alarms via e-mail or web-request. On-call duty itself is managed based on the shift calendar and automatically transferred to SIGNL4 by means of Microsoft Flow (or tools such as Zapier). The advantages are obvious for all parties involved. The on-call staff is flexible in the planning and change of shifts and finally they have fun viewing and processing breakdowns again. Affected persons, who in my initial example often stand in front of or even behind a (sales) counter, benefit from reduced downtimes and faster troubleshooting.
You can test SIGNL4 immediately and free of charge. Just download the app and register.