Our interim update from March 15 adds important security features to call forwarding to on-callers. Three new settings have been added for call routing numbers:
PIN
Allow callers
Block callers
PIN
From now on you can assign a PIN to a phone number. A caller must then enter this PIN to be connected to the person on call or to reach the mailbox if real call forwarding is not activated.
Allow and block certain callers
Additionally there is now the possibility to enter phone numbers or phone number ranges into lists for allowed and forbidden callers. Wildcards are also supported. This allows for example to allow only callers of a certain area code, e.g. an urban catchment area. In this case you would enter this as shown in the following screenshot.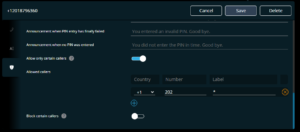 If you want to block certain phone numbers from reaching the hotline, you would enter these phone numbers accordingly under the activated "Block phone numbers" checkbox.
The above features reduce call volume, provide additional security and prevent spam calls. An overview of call forwarding in SIGNL4 can be found here.