Article by Doreen Jacobi
As a business owner or manager, you understand the importance of efficient operations and effective communication, particularly after hours. You want to equip your on-call engineers with all the information they need to resolve a ticket when not at their desk. If you are using ConnectWise to manage your service tickets – here is some great addition to help with your after hours alerting:
Connecting ConnectWise with SIGNL4: A Winning Combination
ConnectWise is a popular professional service automation (PSA) and remote monitoring and management (RMM) platform, widely used by IT service providers and managed service providers (MSPs) to streamline their operations. One crucial aspect of efficient after hours alerting is the ability to direct incoming support tickets to the right personnel without delay.
Enter SIGNL4, a cutting-edge mobile alerting platform designed to facilitate real-time communication and collaboration during critical incidents. By integrating ConnectWise with SIGNL4, organizations can seamlessly route incoming ConnectWise service tickets to specific SIGNL4 teams based on the corresponding ConnectWise Service Boards. This integration ensures that tickets are immediately assigned to the appropriate on-call engineers or teams, significantly reducing response times and improving incident resolution.
Harnessing the Power of Service Board Routing
ConnectWise allows users to categorize and manage support requests through Service Boards. Each Service Board is dedicated to a specific service or aspect of the business, such as network infrastructure, software applications, or hardware maintenance. By connecting ConnectWise Service Boards with SIGNL4 teams, organizations can create a seamless workflow where tickets are automatically funneled to the right experts, ensuring that incidents are addressed by individuals with the necessary skills and knowledge.
For example, a critical network outage ticket can be directed to the Network Operations SIGNL4 team, while a software-related issue can be routed to the Software Development SIGNL4 team. This targeted approach minimizes the risk of tickets being lost or mishandled and guarantees that the right experts are notified promptly.
Creating a Seamless Connection
The process of integrating the two systems is surprisingly straightforward. Within the Integration Gallery of SIGNL4, you'll find a user-friendly 2-way connector. Establishing a connection to your specific instance involves providing an Instance URI, company ID, API Member ID, Public API Key, and Private API Key. All of these details are tailored to a particular service board within your ConnectWise setup.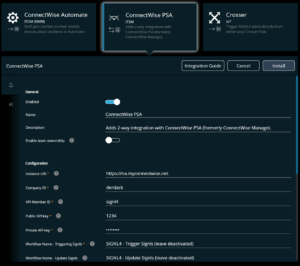 By inputting these credentials into the SIGNL4 connector, you establish the necessary authentication for seamless ticket interaction between the two platforms. Once this connection is established, ConnectWise automatically generates workflows designed to manage acknowledgments, annotations, and closures of alerts. While these predefined rules can be customized to align with your unique business needs, in our practical experience, these workflows deliver a smooth integration. They facilitate the process of alert initiation right from ticket creation and ensure that ticket updates from SIGNL4 are instant, offering clear and real-time insight into the status of each ticket.
Establishing After Hours Support
The SIGNL4 scheduler simplifies duty member scheduling with just a single click. Accessing the scheduler is straightforward from the web portal: navigate to Teams, then Shift & Duty, and the scheduler with all the team's settings will appear. Utilizing the convenient Copy Mode, you'll only have to establish the schedule once and can duplicate it to a specified date in the future. When a duty member is on the schedule, they will be automatically get clocked in and out at the scheduled times, ensuring that important tickets are never overlooked.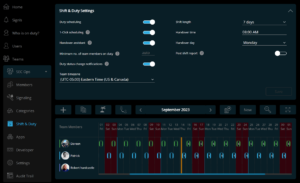 SIGNL4 goes the extra mile by introducing Time-Based Overrides, which assess the ticket's urgency based on SIGNL4 Categories and add an additional filtering layer. An illustrative Time-Based Override might involve suppressing alerts generated for less urgent tickets while designating persistent phone calls for those critical alerts that must not go unnoticed during the night. In the following example, we demonstrate how we're suppressing alerts for lower-priority tickets. For more details, please refer to our videos on scheduling and time-based overrides.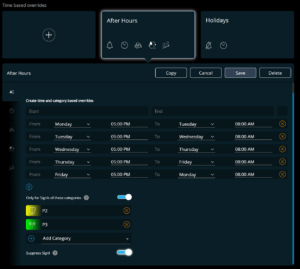 How to add After-Hours alerting to your ConnectWise PSA
Conclusion
Effective after hours alerting is a cornerstone of successful IT service delivery. The integration of ConnectWise with SIGNL4 revolutionizes incident response by routing ConnectWise tickets to the right on-call engineers based on ConnectWise Service Boards. This seamless integration, combined with on-call scheduling and mobile alerting, ensures that your Connectwise service tickets are addressed promptly and collaboratively, regardless of the time or location. By harnessing the power of SIGNL4's mobile alerting capabilities, organizations can optimize incident management processes, minimize downtime, and elevate customer experience to new heights.