The development and rise of cool, tiny and smart devices of all shapes and functions is the foundation of the Internet of Things (IoT). Many of these mechanisms shared below are relatively small in size, but do not let that fool you. These are powerful products that have been endorsed by many. Today, I will introduce you to some of the best IoT devices available on the market. Ease of use and integration in the hardware below really goes to show why IoT is growing rapidly among businesses and consumers alike. Let me explain how these things are changing how people interact with technology.
*Check out our overview on The Internet of Things if you need a quick refresher on the topic.
Raspberry Pi
Video Overview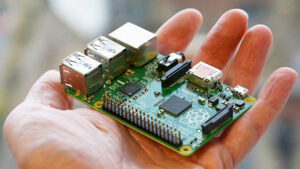 This is one of the most established families of IoT devices on the market (Est. 2012). Professionals, hobbyists, and educators alike love to work with different Raspberry Pi mini computers to complete a variety of tasks. With a Raspberry Pi you can run multiple operating systems, connect to various sensors, and integrate with systems over a wireless network. You can even assemble a team of these devices to create a powerful monitoring network. The processing power in these bad boys will surprise you. For some inspiration take a look at these projects.
What We Like 
Powerful mini computers
Supports different programming languages
Multi-OS compatibility
Many add-on components available
Giant open source community
Open connectivity stack, not bound to any IoT platform
SIGNL4 Compatible
Limitations we see
Requires programming skills
OS setup can be tricky and time-consuming
Extra capabilities like sensoring require additional purchases
Flic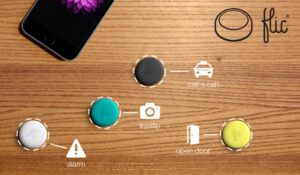 This compact silicone device is rather dynamic for a little button. Setup only requires a Bluetooth connection and a free app download on your mobile device. Within the Flic app, dictate what actions will trigger events in your favorite apps and other IoT devices. Use Flic to change a song, trigger a workflow, share your location, and more. There are so many app integrations to chose from. You do not even have to change the battery for the first 18 months. Buy in bulk, and build a smart home environment with different buttons dedicated to different tasks. See how Flic teamed up with Pizza Hut to create some state-of-the-art pizza ordering shoes.
What We Like 
Plenty of easy app integrations (IFTTT)
18 months of battery life guaranteed
Works with iOS and Android devices
Clip and adhesive back pieces
SIGNL4 Compatible
Limitations We See
Requires a mobile app to work with your phone or an extra Bluethooth hub
Bluetooth connectivity, so applications are somewhat limited
Poor reliablity if using with the mobile Flic app as it looses BT connectivity
Pycom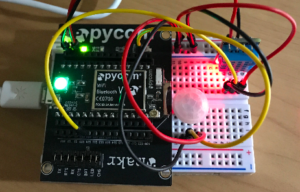 Boasting their impressive multi-network connectivity through different models, Pycom has a knack for developing IoT technology. Similarly to Raspberry Pi offerings, Pycom development boards have plenty of room for customization. Store custom script, connect sensors, link to the network of choice, and you're in business. Dive into their API capabilities to arrange real-time conditional alerts on your Azure IoT dashboard.
What We Like 
Small form factor
Low price
Great wireless connectivity (LTE, WiFi, Lora, BT, Sigfox, NB IoT), all out of the box
Plugable add-on components and sensors shields available
Easier to program than Raspberry and more lightweight
Open connectivity stack, not bound to any IoT platform
SIGNL4 Compatible
Limitations We See
Sensors are bound to shield, i.e. industrial application requires additional capabilities
Multiple purchases required to maximize Pycom capabilities
AWS IoT Button 
Video Overview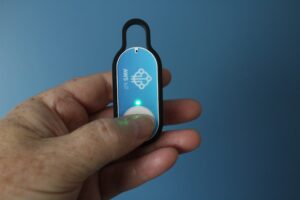 You may be familiar with the Amazon Dash button that allows one to order household goods before running out. The AWS IoT Button is similar, but this was created with Industry 4.0 applications in mind. Every time the button is pressed, a Lambda function is kicked off. Configure your button with your network, connect to existing systems, and trigger critical events with a single click. See how the AWS IoT Button made one-click check-in/out possible for Airbnb guests.
What We Like 
Trigger AWS Lambda functions with a click
WLAN connectivity
LED click confirmation
Top reliable
SIGNL4 Compatible
Limitations We See
Built on AWS cloud connectivity, requires AWS account
Somewhat difficult, manual setup for WIFI connectivity (though they tried their best)
Pair IoT devices with SIGNL4 to Add Mobile Alerting and Service Dispatching Capabilities in No Time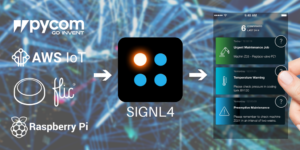 All those devices can generate alerts and events but how are these processed and what actions do they trigger? Consider SIGNL4 to add mobile alerting and service dispatching capabilities in no time.  SIGNL4 is a lightweight alerting application for mobile operations teams working in IT Ops, manufacturing, utilities and more. This application  send enriched alerts via mobile app, push, text and voice calls in real-time to your incident response team. After receiving an alert, individuals can use the mobile app to acknowledge, own, track, and communicate tasks transparently across their team. This makes for an effective alerting experience that accelerates response time, and reduces downtime. It just so happens that the devices we mentioned above are also compatible with SIGNL4. Visit our integration page for help configuring your devices and systems with SIGNL4.
Embrace IoT Technology
That wraps up our list of favorite IoT devices. We highly suggest checking out one of these products for yourself. Get connected outside the realm of your phone or desktop, and see what the Internet of Things has to offer. You never know; you may end up enjoying one of these gadgets more than you thought. Have fun exploring!
Assemble your SIGNL4 team today!
*Sign up free, no Credit Card required