Our May update brings new features to our Signl Center in the web app and adds a new view that displays your upcoming duties to the mobile app!
Upcoming Duties Preview
When part of an on-call duty team, your private life and work-life-balance are pretty much affected. Knowing about scheduled duties in advance and having such information at hand, can simplify things a little bit. That's why we have added a new feature to our mobile app.
The mobile app now displays the next 3 upcoming duties if those have been scheduled. The scheduling feature is available during the 30 days trial and in Optimize and Maximize plans. On the mobile app main dashboard, simply swipe to the left to see the upcoming duties pane.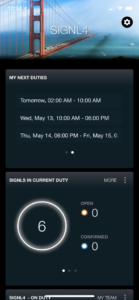 Alert Management and Chat in Signl-Center
Allowing for greater convenience in managing alerts, we have added capabilities to the web app (account portal).
You can now  acknowledge and close Signl alerts also in the web-based Signl centre. When you open the details pane of a Signl, buttons are displayed. The Acknowledge button is displayed if a Signl is in "New" state. Once acknoledged, the Signl can be closed by clicking the "Close" button.

In addition, you can now follow and participate in alert-related chats from the web portal. This allows for collaboration and communication with your field teams from your browser. It is also very useful to track progress of an incident.

We hope you are going to enjoy the new features. Let us know any time what you think about our work and rate SIGNL4 in appstores or on other rating sites.