Our August update brings the ability to export shift scheduling from SIGNL4 to other calendar apps. In addition, video attachments are now supported for Signls. As always, all the details are in this blog article.
Export duty schedules to external calendar apps
From now on, you can export scheduled duties in SIGNL4 to other calendar apps such as Outlook.
First, team members with access to the duty schedule can export the team's calendar from there. This will consequently contain all scheduled duties in the calendar. To do this, simply click on the export button in the calendar and first generate a webcal URL. Open the URL and choose the calendar app on your device to which you want to add the schedule. Once imported, the calendar app also updates the calendar automatically and fetches new duties you schedule in SIGNL4 from time to time.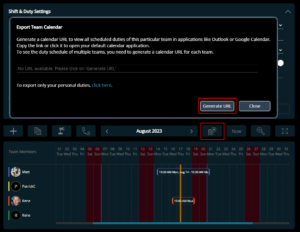 Furthermore, every SIGNL4 user can export his personal scheduled duties in all teams to an external calendar. To do this, open your personal profile via the menu item at the top right and then open the tile "Duty export". Afterwards, the iCal URL can be generated by clicking on "Generate URL" and then opened. The latter starts the calendar app on the device in which a new SIGNL4 calendar with the name "My SIGNL4 duties" is added.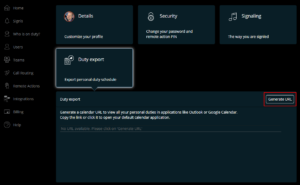 Subscribe to calendars on mobile devices
Any SIGNL4 user can also integrate their personal duties into calendar apps on mobile devices. To do this, open the SIGNL4 mobile app and swipe left once in the user widget on the dashboard. This opens a preview of the user's next scheduled shifts.
A new feature here is the "Subscribe to Calendar" button. A tap adds a new calendar named "My SIGNL4 duties" to the default calendar app on the device. The processes are slightly different on iOS and Android. On iOS, the new calendar is usually assigned to the iCloud account and henceforth synchronized across devices via it. On Android, on the other hand, the SIGNL4 duties are only synchronized locally in the calendar app on the respective Android device.
Support for video attachments
Brand new is the support for video attachments when signaling incidents. This means that you can now post a video file to the webhook, or attach it in an e-mail to an SMTP endpoint of SIGNL4. Example scenarios here are camera recordings in security-relevant areas.
In the mobile app, these recordings can then be easily embedded and played back which includes a full-screen mode.
Please note that the videos must be in mp4 or mov format and must not exceed a maximum size of 4 MB.
As always, we hope you have fun while exploring these new features 😊