Meet a typical challenge of 24/7 IT operations
Net at Work is a German IT company with over 100 employees that provides its customers with solutions and tools for digital communication and collaboration. Their product NoSpamProxy offers reliable protection against spam and ransomware, legally compliant email encryption and more. Customers of Net at Work are using it as a SaaS solution, and it is being monitored with the agentless network monitoring software PRTG Network Monitor from Paessler AG. As soon as an incident is detected, PRTG can send e-mails and text messages. However, this was not sufficient to detect and fix problems in a timely and reliable manner, especially at night. An email or SMS text message would not wake up the right people at night. Employees wanted to be able to respond quickly and effectively to critical incidents at any time of the day or night to meet their customer service quality standards. Also, a limitation of PRTG's mobile app is that you can't see who is currently on duty and who is acknowledging alarms and taking responsibility for them.
Solution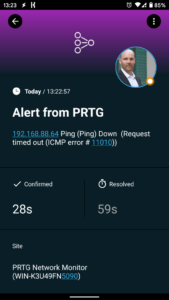 Net at Work was hence looking for a reliable alerting tool that would extend PRTG and could be integrated quickly and easily. Alert notifications should be loud and clear to wake up the person on call. The employee's mutual decision for SIGNL4 as their alerting solution focused on delivering the best service possible and highest availability to their customers.
Pre-filtering of important and unimportant alarms is done with the network monitoring software PRTG Network Monitor.  SIGNL4 ensures reliable delivery of alarms to the responsible staff at the right time. Alerts with SIGNL4 are primarily delivered via app push (with do-not-disturb override) and by voice call. If the person on call does not respond within the configured time, the alert is being tier-escalated. Staff can acknowledge and take ownership for critical incidents and hence determine responsibilities. This ensures that other team members know instantaneously who is dealing with current issues. SIGNL4 makes sure that critical alerts won't go noticed and are dealt with as quickly as possible.
Integrated on-call scheduling in SIGNL4 was not originally a requirement of the Net at Work team but is now being used extensively. SIGNL4 allows for easy drag-and-drop duty scheduling in any browser and displays a preview of upcoming shifts for each employee in the mobile app. In addition, employees are reminded about upcoming duties with a push notification.
What do Net at Work employees say?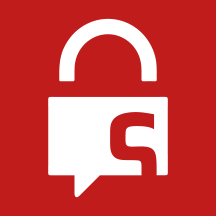 "Thanks to SIGNL4, we are able to provide secure 24×7 operations for our customers. It fits 100% into our systems and does exactly what it's supposed. Due to the fast and competent support we're feeling confident that we made the right decision with SIGNL4."
Stefan Cink, Business Unit Manager NoSpamProxy 
Enjoyed benefits
By adding SIGNL4 to PRTG, Net At Work employees can now send alerts to the right people at the right time and see who is on duty and who acknowledged the alert in real-time. SIGNL4 enables mobile notifications via app push, text messages, email and voice call, which are individually configurable. This ensures that employees are reliably awakened to critical incidents and can respond quickly and efficiently. Knowing they will be woken up effectively when incidents occur, employees can sleep soundly again and are only woken up in emergencies.
Net at Work particularly appreciates SIGNL4's high level of automation (APIs, automatic alarm routing based on the on-call calendar) and the easy integration with PRTG and Microsoft Teams. A connection from PRTG Network Monitor and SIGNL4 is established via email or WebHook.
About Net at Work and NoSpamProxy
As an IT company, Net at Work supports its customers with solutions and tools for digital communication and collaboration. The "software house" business unit develops and markets NoSpamProxy, an integrated secure e-mail gateway for reliable protection against spam and ransomware, legally compliant e-mail encryption, easy sending of large files and central management of e-mail disclaimers. With its "Made in Germany" security features, NoSpamProxy perfectly complements Office365 and is available in the cloud and on-premises. More than 4,000 customers entrust the security of their email communication to the multiple award-winning solution – including test winner in the independent techconsult Professional User Ranking.
If you want to ensure reliable alerting of your employees in the future, click here to test SIGNL4 for 30 days for free.
You can also download the complete Net at Work casestudy as a PDF here.