There is no easier way to receive mobile alert notifications from Splunk than using SIGNL4, a lightweight notification app for powerful mobile alerting and alert management.
Update: There is now a Splunkbase SIGNL4 app available. Here is video how it works.
Splunk custom alerts go mobile
SIGNL4 offers a webhook that makes integrations extremely simple. Any search alert you create in Splunk that needs mobile notification just needs to call the webhook of SIGNL4 ("Webhook alert actions"). Here is how it is configured: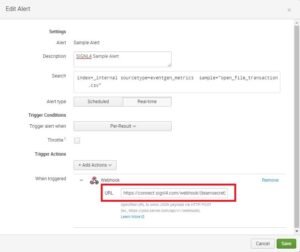 Please, use the SIGNL webhook URL with your team secret code to route the alert to your team. This will then distribute persistent alert notifications to your peers on duty.
The result on your mobile device looks like this. Note that you can open URLs taking you to more details in your Splunk web console. SIGNL4 will digest the JSON payload of the webhook call and will display all parameters separately so information can be perceived easily.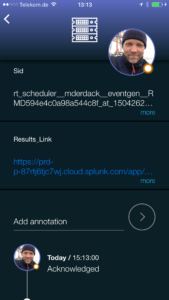 Please note that this webhook integration is convenient, but simple. There is a more powerful option through custom apps and will pursue this option in the near future.
Read more about creating and managing alerts in Splunk here.
Mobile alerting with SIGNL4
SIGNL4
provides a persistent mobile notification channel for critical communications
reliably routes critical alerts, incidents and events to staff on duty
lets your team manage and track timely availability (e.g. on-call duty, shifts)
tracks delivery and ensures transparency on ownership and response
centralizes alert notifications from multiple sources
easily connects with any system via industry standard protocols
directly links operations teams with your most critical IT, OT and IoT systems
To get started, download the mobile app and your ready to go for free for 30 days.