Our May update brings Signl templates for manual alerting, improvements for duty scheduling and various enhancements in the web portal. Another new feature is the possibility to notify through calling landline numbers. All details can be found in this blog article.
Templates for manual Signls
Manual Signls now comes with templates. Templates can be created by filling out the form and then saving it under a meaningful name. All saved templates are displayed in the right pane on the "Send Signl" page, ready for selection. This is enables submission of critical alerts with just 2 mouse clicks. With the new templates, you can raise Signls to multiple teams within seconds and still track everything afterwards.
Clicking a template from the right pane will immediately fill the form based on stored form data. As the number of templates is not limited, we've added a full text search.
Once a Signl has been triggered, it's submission is displayed for some time under "Last executions". When you click and entry, you will be transported to the related Signl item in the Signl center for tracking and review purposes.
The new Signl templates are part in every single commercial subscription plan.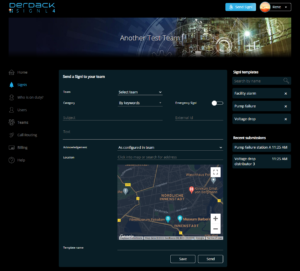 Improvements for duty scheduling
The duty scheduler now also show holidays. This allows for easier identification of who is scheduled for duty on those holidays. You can now also manage those holidays from the duty scheduler page by clicking the 'palm tree' icon.
We've also added the option to create a new duty slot using the 'plus' button. This comes on top of just clicking into the scheduler. A benefit of this option is to create multiple occurrences of such added slot, e.g. a weekly repetition for 8 weeks, making scheduling much faster.
You can now also edit existing shift through the attached menu (right-click) which brings up an edit dialog.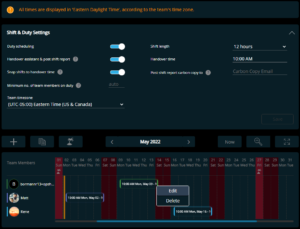 Support for landline numbers
We've gotten requests to notify users via voice calls to a landline numbers. This is anow possible as the verification of team members' phone numbers is also possible via phone call. This allows you to validate landline phones, for example, by having it called and then entering the announced code in the dialog in the portal. On the page for validating a number, simply click on "Via Call". Instead of sending a text message, SIGNL4 will call you and announce a code that you need to enter: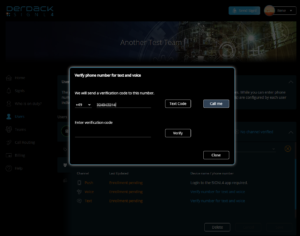 Set your notification profile in the portal
In most cases, Signls are notified via channels and sequences centrally administered by your team admin. However, when no central profile is defined, the person notification pattern is to be used. Previously, this has been configured in the mobile app. Now, users can define their notification patterns also in the web app through the person menu on the top right.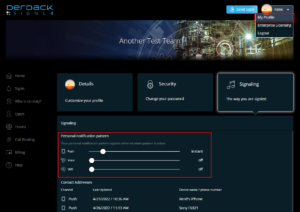 Faster escalation when no one is on duty
We have also made our escalation mechanism more intelligent and extended it so that it escalates immediately if there is no one on duty a team. In this case, their is no need to wait for the response time breach as no one received a notification anyway.  Hence, SIGNL4 immediately escalates the Signl according to the team's configuration without waiting for the elapse of the response time.
As always, we hope you have fun discovering 😊