In a previous article we've shown how to send alerts to SIGNL4 from Amazon Alexa.
It is also possible to do the same using the Google Assistant, either on your mobile device or using your Google Home speaker.
Setting it up is easy if you are tech-savvy. You need an Android phone with the Google Assistant, the free IFTTT app installed on it and an IFTTT account.
IFTTT stands for 'If This Than That' and you can easily assemble so called Applets with custom If and Then parts. You can do this on the Web or in the IFTTT app on your phone. The If part in our case is the Google Assistant command and you can specify the phrase that should trigger the Applet. You can even choose to add custom text that will then become part of the SIGNL4 notification.
In our example we use the phrase "signal for alert $" and alternatively "signal four alert $". The text is recognized by Google Assistant and the "$" is a place holder for your custom alert text. Note, we cannot use "SIGNL4 alert $" because Google Assistant will not recognize this a a valid phrase. Than we specify a response text and this is it.

The second part (the 'Then') of our Applet is a Webhook that triggers the SIGNL4 alert notification. Here you need to specify your SIGNL4 team's  Webhook URL including your team secret/id. The webhook call or request needs to be sent as JSON Post. In the body or payload , insert what is the custom text you say after "Signal for alert".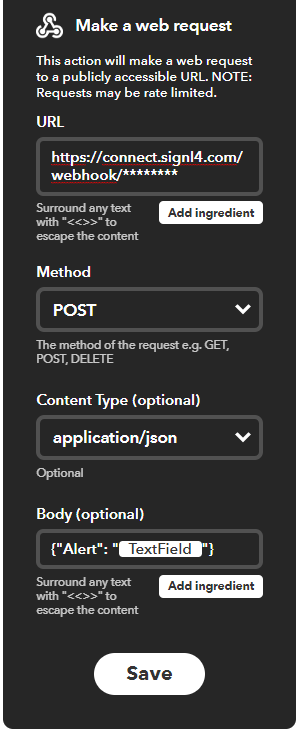 This is it. You can save your Applet and test it directly with the Google Assistant on your phone. Activate the Google Assistant by saying "OK Google". Then say "SIGNL4 alert", followed by your custom alert text, for example "There is smoke in hall 4"
This is how it looks like on your phone.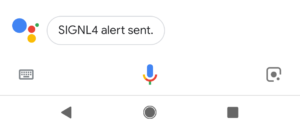 And as a result your team, team members actively on duty respectively, now get alert notifications in their SIGNL4 mobile app.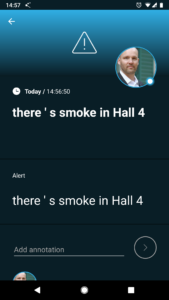 Assemble your SIGNL4 team today!
*Sign up free, no Credit Card required