Field service management (FSM) is the business-official way of mentioning all the operational and administrative work that goes into on-location service delivery. In other words, FSM is the juggling act that involves everything from accounting and customer relationship management (CRM) to service dispatching and enterprise resource planning (ERP). One can find FSM in many industries like IT, healthcare, public utilities, energy and more. Typically, the end goal of field service is customer satisfaction, either direct or through the contininuous delivery of services as in energy supply. If customers are happy, your organization will be compensated, and you will benefit from long-term customer relationships. To meet service level agreements (SLAs) and high customer expectations, a mobile workforce must tend to service requests in a quick and efficient manner on a consistent basis. Various on-premise and SaaS software solutions make field service manageable and more efficient in the 21st century. 
Trends Driving the Future of Field Service Management 
The global market of field service management is growing rapidly. With a compound annual growth rate (CAGR) of 16.5%, the global FSM market is expected to climb to $4.45 billion in 2022 according to Stratistics MRC. Advanced connectivity through customer portals, team applications, and Internet of Things (IoT) are just the beginning of next level field service. Let's take a deeper look: 
Enhanced Customer Experiences 
Companies want to close the gap between what is said and what is delivered to the customer. Customer service is no longer just a call into the abyss of poorly managed customer relationship management (CRM). Modern service requests are directed through well-designed forms, apps, and websites. In some cases, front-end customer interfaces also enable individuals to track service. Customer expectations are managed with facilitated internal communication, so that your team can focus on fulfilling as many requests as possible. For more on this topic, read about the 5 Competencies of Enhanced Customer Experiences on Forbes.
Integrated Enterprise Systems 
FSM software often works directly with CRM and ERP systems to pass along additional data to incident responders. Consolidated alerting from various avenues reduce time spent troubleshooting, so that jobs are completed faster. Field service management software is the most effective when it supports third-party integrations.
Software-as-a-Service (SaaS) 
Subscription-based Software-as-a-Service (SaaS) offerings allow small and large businesses to take on additional operational abilities at costs that beat annual licensing contracts of on-premise software. Full-blown SaaS ERP systems can be risky, however, taking just a portion of your business to the cloud can be a safe alternative. SaaS offerings are flexible and scalable to your needs, which is great when you are dealing with a mobile workforce that has variable workloads. Field service management solutions are also more accessible for small and medium sized businesses (SMBs) when they can pay as they grow.
Mobile Applications 
Field service management is not limited to the confines of an operations control room. Dispatched workers need a reliable way to receive service-related updates on their mobile devices. Many organizations with on-premise ERPs may integrate with a mobile app to deliver critical service alerts to their workforce. Applications vary in features, but core functions typically include service alerting, team communication, shift scheduling, and more. Mobile apps have revolutionized how field teams respond to incidents.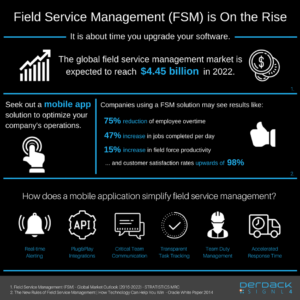 Developing Field Service Management with SaaS Components
Many organizations already have an enterprise system or two in place to help address field service management. Just because systems may not be tailored directly for your organization's work, it does not mean that those systems should be replaced. Systems today are more customizable than they have ever been, making them ever-so-valuable to organizations everywhere. But what should you do when you are missing needed functionality in a system you are already committed to? You can contact your vendor and hope for a quick realization of your wishes.
SaaS systems, micro-services and lightweight applications are an option here to complement and enhance existing solutions. SaaS software is oftentimes purchased based on the amount of functionality you are looking to get out of an additional enterprise program. If you need for instance automated field service dispatching capabilities, you can find a solution and a plan that covers just that. However, if you want a solution that assists with advanced scheduling, dispatching, and customer service, you will have to find a larger service plan or more complex product on the market.
Since many systems are optimized exclusively for desktop use, increased connectivity expands the capabilities of on-premise systems. Typically, field service dispatching is a manual process with operators calling field workers. With a SaaS solution, you can integrate with your systems to streamline team communication and partly or fully automate dispatching processes. A well-executed back-end integration can deliver service task and assignments to a mobile workforce in real-time – and automatically. That is huge in field service management.
Modern Field Service Dispatching Workflow Example 
Here is an example of how an automated field service dispatching workflow would play out for a company that handles service requests. This example features an electric utility company that is restoring widespread outages after a couple of days of bad weather. Grid-edge IoT technology is used to pinpoint areas that are affected. Workers are deployed immediately via a mobile app after serviceable locations are identified. Note that the application focuses on one area of FSM: Dispatching/Deployment.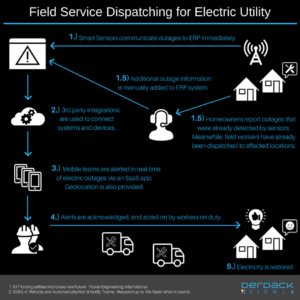 Field Service Dispatching Starts with SIGNL4 
If you decide to take on a SaaS solution to complement FSM with automated mobile dispatching, SIGNL4 is the app for you. Built specifically for mobile ops teams, SIGNL4 specializes in advanced team alerting to accelerate incident response time. Features of the app include persistent enriched alerting, in-alert ChatOps, countless third-party integrations, flexible duty management, transparent task and time tracking, and much more. Download the app, integrate your systems, invite team members, and give it a go for 30 days free of charge.
Optimize Your Organization's Field Service Management 
Do not rely on a ladder of communication to dispatch alerts to your mobile team. Seek out a lightweight SaaS cloud solution, so your team can respond to events immediately. A modernized FSM infrastructure boosts team efficiency and increases customer satisfaction across the board. Either change with the times, or get left behind; the future is now.
Assemble your SIGNL4 team today!
*Sign up free, no Credit Card required